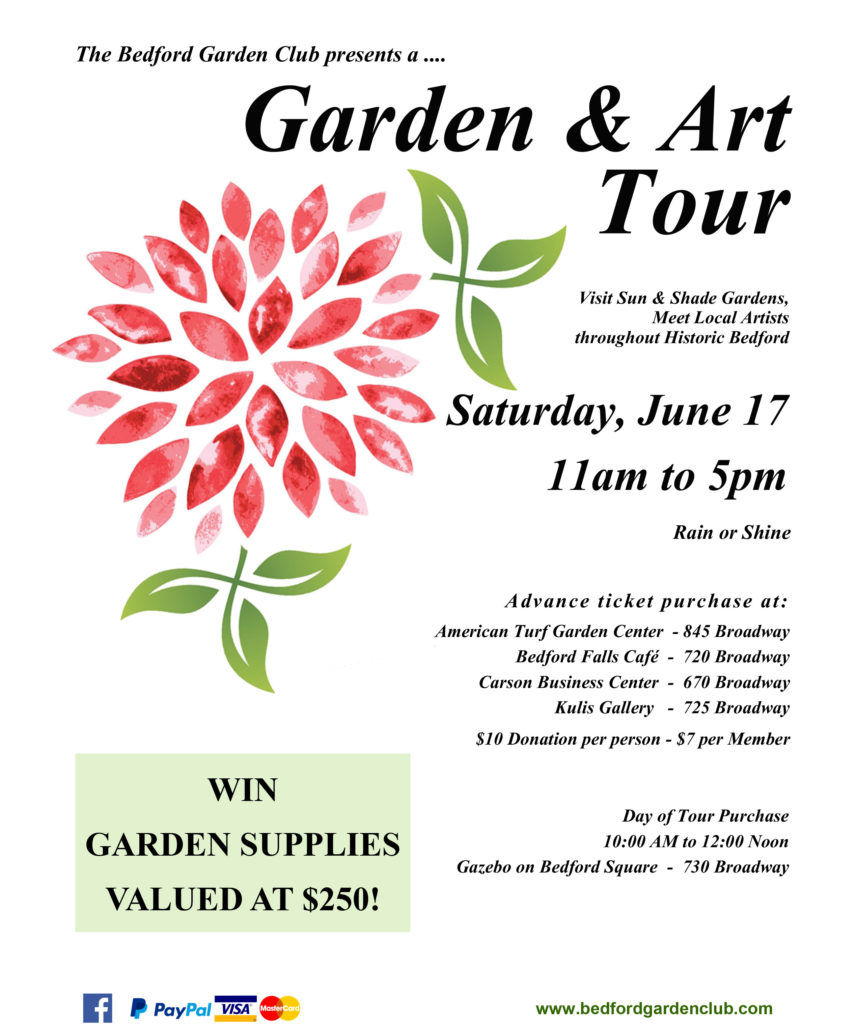 A highlight of the 90th Anniversary celebration of The Bedford Garden Club will be the Garden & Art Tour, set for June 17th.  Fourteen of some of the loveliest gardens in Bedford have been selected to be paired with a local artist who will be displaying their work.  Some will be working on a new piece while in the garden.  This will allow the public to see both the botanical beauty and artistic accomplishments in the City of Bedford.   Tickets are on sale to the public for $10.  Tickets will be on sale at local Bedford businesses as well as at club meetings.
Get tickets now to get a peek into the loveliest gardens in Bedford, Ohio. Each garden will be paired with a local artist who will be working on a new creation while visitors tour the gardens. 14 gardens and artists will be featured on the tour.
What to expect on the tour!
The Tour will take place rain or shine.  Please feel free to visit the gardens in any order.  Numbered signs will mark the property entrances.  Artists will have work for sale.  Homeowners and volunteers will be on hand to answer questions.
A school garden, 20 years in the making, using no tax dollars, has matured into a vibrant learning experience for students. A koi pond, an E.P.A. approved wetland, and raised beds of vegetables, is the classroom.  Sustained by fundraisers and grants, Bedford can be truly proud of this hidden gem.  Join with the Students today to create and take home your own work of art.Artists: Glendale Elementary School Students

This woodland retreat is situated on two acres of forest and gurgling creek with nooks and crannies to watch and enjoy Nature's flora and fauna. Iron sculptures dot the landscape.  Deer proofing influenced this design.

Artist: Brian Migchelbrink – Metal Sculptures

A large evergreen shades this 1915 brick home with a sweeping vista of six distinct areas. Stroll down a gravel path through a latticed gate to the gazebo landscaped with shrubs, perennials, and a murmuring fountain. Cross an iron bridge over a pond and waterfall shaded by a large catalpa tree. Cast iron benches offer resting places to enjoy the beauty of this garden with all its color and texture.

Artist:  Richard Backo – Nature Paintings and pottery

This city landmark home has a rich history, which the current homeowners will share with visitors while touring the downstairs. An espalier of fruit trees flanks the house. Asparagus, rhubarb, currents and raspberries are by the fence.  The gardens are a work in progress, with innovative planting beds containing exotic vegetables and a myriad of unique flowers.

Artist:   Oscar Velasquez – Paintings of Bedford Scenes

This homeowner has created a secluded retreat for relaxation or entertaining – an outdoor living room. Heirloom rhododendrons line the front walk welcoming visitors. The driveway border showcases old lilacs, Stella de Oro lilies, ornamental trees and perennials that thrive in sun and shade.  A clapboard fence displaying fun art is accented with colorful annuals.  Butterfly bushes, iris, Solomon seal, yucca and sweet woodruff rim the backyard fences enhancing the waterfall pond and stone patio area.

Artist:  Paula St. John – Plein Aire painting

An almost century home, features a stuffy couple, Maude and The Farmer out front. Extensive use of deer resistant Catmint (Nepeta) frame the front shade garden with a variety of epimidium. Iris, roses, and herbs line the driveway.  Ferns, hosta, Solomon seal, trilliums and jack-in-the-pulpit fill the rear shade garden.  A 1900 rose plant holds a special place by the fence, while monarda, phlox, ginger, rodgeria make for a poor man's art gallery.

Artist: TBA

A lovely river birch welcomes visitors to this handsome Brick Colonial. A covered patio with a furniture cart from the old Marble Chair Company overlooks border gardens of turtleheads, coreopsis, bottlebrush, purple star, phlox, spiderwort, dianthus, wild geraniums and more – a wide variety of perennials.  A birdbath is complimented by candy tuff and iris, while cast iron Westies stand guard.  Also, note the unique rain barrel.

Artist:  Elmer Spitalski – Woodcarver

This house on the old brick paved street is a step back in time. The curb appeal of this yard with its giant sycamore trees, square fountain, bishop's weed, myrtle ground cover and a variety of clematis beckons visitors to a back yard getaway with a pool. Lilies, columbine line the drive.  The functionality of this small space proves – you can create your own stay-cation!

Artist:  Crystal Greenwell – Abstract Painting

A French bistro set welcomes you to a front porch trellised rose bush, flanked by flowering quince and holly bushes.    Locust trees and a lilac bush shade flowering may apples and pachysandra.  A stone patio shaded by an old lilac opens to a large play area – another example of good use of a a small space in an urban setting.

Artist:  Kat LoGrande – Pet Portraits

The front yard features a circular bed with impressive elephant ear plants. A manicured lawn and a massive bed of sun-loving flowers including peonies, variegated weigelia, yellow twig dogwood, and purple allium leads to a serene maple tree-shaded garden and a wide variety of hostas.

Artist: Terry Mitchell – Jewelry and Paintings

This garden center offers special flowers and shrubs not found elsewhere. Be sure to visit the beautiful water feature, fairy gardens, and unique containers spilling over with colorful annuals and perennials.  Stop for Diane's homemade lemonade and cookies.

Artist: Joe Szabo, Finger-style Guitarist – Musical interlude 3 to 5 p.m.
Bonus Gardens!
The Club's garden behind the Bedford Historical Museum is a combination of sun and shade heirloom plants and others.
The Bedford Community Garden behind Central Elementary School has 42 plots including 5 raised beds of vegetables and 7 apple trees.
Ticketing Information
Tickets are $10 for non-members and $7 for members.
Buy tickets for the Bedford Garden & Art Tour online now!
Member Status
Your Name for Will Call
Information about purchasing tickets offline
Tickets can also be purchased at the following locations:
American Turf Garden Center – 845 Broadway
Bedford Falls Cafe – 720 Broadway
Carson Business Center – 670 Broadway
Kulis Gallery – 725 Broadway
Tickets can be purchased the day of the tour at the Gazebo on Bedford Commons Square from 10:00AM – 12:00PM.